Marc Stiles LMT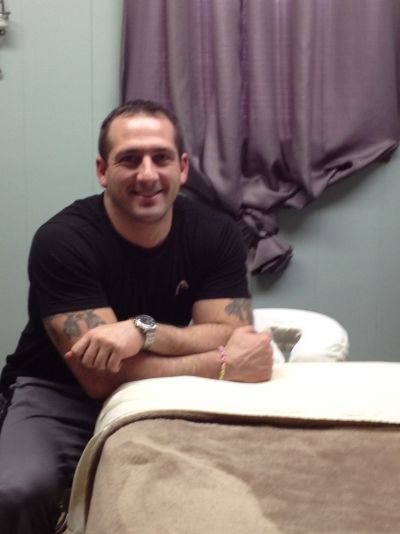 MARC STILES, LMT
I have played sports all of my life so I understand the importance of keeping our bodies healthy. Eating healthy and working out is only part of the process. Your muscles hold more than your bones in place. They can store your stress of your daily life. You don't need to be active to have muscle pain. That stress can weaken your muscles and cause pain and keep you tense. Sure medication can dull the pain but it doesn't heal it. Your body is always trying to heal itself, but sometimes it needs a little help. I find that muscles need a little extra. Massage helps drain your muscles of unneeded fluid allowing them to relax. The fibers get wrinkled and need to be ironed out (no one wants a wrinkled body). Only with body maintenance can we stay healthy. Eating healthy can help you feel good. Working out can help you feel strong. Getting a massage can help your body recharge, releasing stress and tension. Keeping us ready to take on each day.
MARC'S SERVICES & RATES
CHAIR MASSAGE: $20/15 mins
Chair massage is a popular way of relieving stress and releasing tension. You receive your massage in a specialized ergonomic chair. In addition to the usual health benefits of massage, another benefit of chair massage is that it is done over the clothing. With seated massage, you can avoid the discomfort and awkwardness that you may feel in disrobing for a traditional massage. Also, chair massage sessions are shorter than traditional massage, making it convenient enough to fit into a busy schedule.
Many ways to utilize this effective bodywork:
Employee or Customer appreciation
In lieu of flowers for any occassion; birthday, people in your wedding party, and even for your friend, coworker or family member who is taking care of an ill loved one or recently lossed a loved one.
Christmas parties
Health fairs
Church picnics
DEEP TISSUE: $75.00/hour $110.00/90 min $40.00/30 min
Deep Tissue Massage is a form of bodywork that aims to relieve tension in the deeper layers of tissue in the body. It is a highly effective method for releasing chronic stress areas due to tension, repetitive motions, and past lingering injuries.
Due to the nature of the deep tissue work, open communication during the session is crucial to make sure you don't get too uncomfortable, and the therapist works within your comfort range. Soreness can be common after the treatment but it is usually a 'good sore' feeling and you can feel the release in the muscle. You are encouraged to drink plenty of water to aid with the flushing and removal of toxins that will have been released from the deep tissue during the session.

TRIGGER POINT THERAPY
Trigger points are tender areas of tension similar to acupressure points, except they occur in the belly of the muscle rather than along the energy pathways of the body. These "knots" are built up throughout a person's daily life due to physical, mental, and/or emotional stress and/or repetitive motions such as raking or shoveling.
Always working within the clients comfort, pressure is applied to the fullest point in the belly of the muscle, and soon the muscle softens and releases. Clients can often feel the muscle release and the relief tends to be immediate.
Trigger point therapy is integrated into every session.
EVENT MASSAGE: $80.00/hr or $20/15min
Event Massage is when you hire a massage therapist to attend your event to offer chair massage or table massage fully clothed. It can be performed at christmas parties, employee appreciation days, health fairs, retirement places, offices (dental, accounting, law...) and the list goes on. It's been proven that employee loyalty goes up, sick day call-outs go down, and performance improves! Clients are impressed and you are the most popular business at the business fairs!
Get creative and send a 'Thank you Massage' to a great client, a *'Sympathy Massage' or an *'Empathy Massage' for a friend or co worker who has suffered loss, or has a lot of stress in their life perhaps taking care of a loved one. It's a great service to offer when you don't know what to do, but you want to help. The effects can last longer than flowers.
Other great gift ideas: gift certificates for that hard to buy for person, employees, coworkers or boss birthdays! It can also be used for employee incentives and goal reaching efforts!
Usually done in a specialized chair, the client is given a massage treatment while fully clothed. The massage therapist is able to work through the clothing without any creams or lotions. It's a stress reducing, way to say 'thanks', 'good job' or 'I care'.
Chair massage is very effective in treating shoulder, neck and back issues and in less time than table massage.
Host one of these events and remember: it is wise to book in advance!